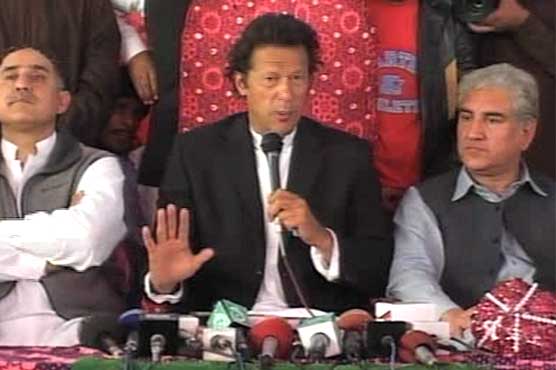 SHIKARPUR – Pakistan Tehreek-e-Insaf (PTI) chairman Imran Khan on Thursday urged Sindh government to identified the perpetrators who orchestrated Shikarpur tragedy adding that people were being killed in the wake of sectarianism.
Imran Khan was in Shikarpur to offer his condolences with the families of the martyrs. Talking to the media, he said systemized police can curb terrorism whereas the police were rather being used and misused for political objectives and to take political vengeance. Police were aware of any hate being propagated in the area, he added.
He said Khyber Pakhtunkhwa (KP) police were an example for others.
He further informed that since the rally in Larkana, police were detaining PTI workers. People cannot leave their houses after evening in Sindh whereas phony cases were being registered against PTI workers in Punjab as well. "For how long will the poor suffer in the name of Bhutto?" he questioned. He said people of interior Sindh have lost their self-esteem.
Chairman PTI stated that our governments nurture terrorists.
Referring to Baldia Town incident, he said the tragedy engulfed poor laborers whereas no action was being taken against Muttahida Qaumi Movement (MQM).
He accused that people were being bought in Senate and advised PM Nawaz Sharif to restrict his foreign tours.